The Soft Geometry Archives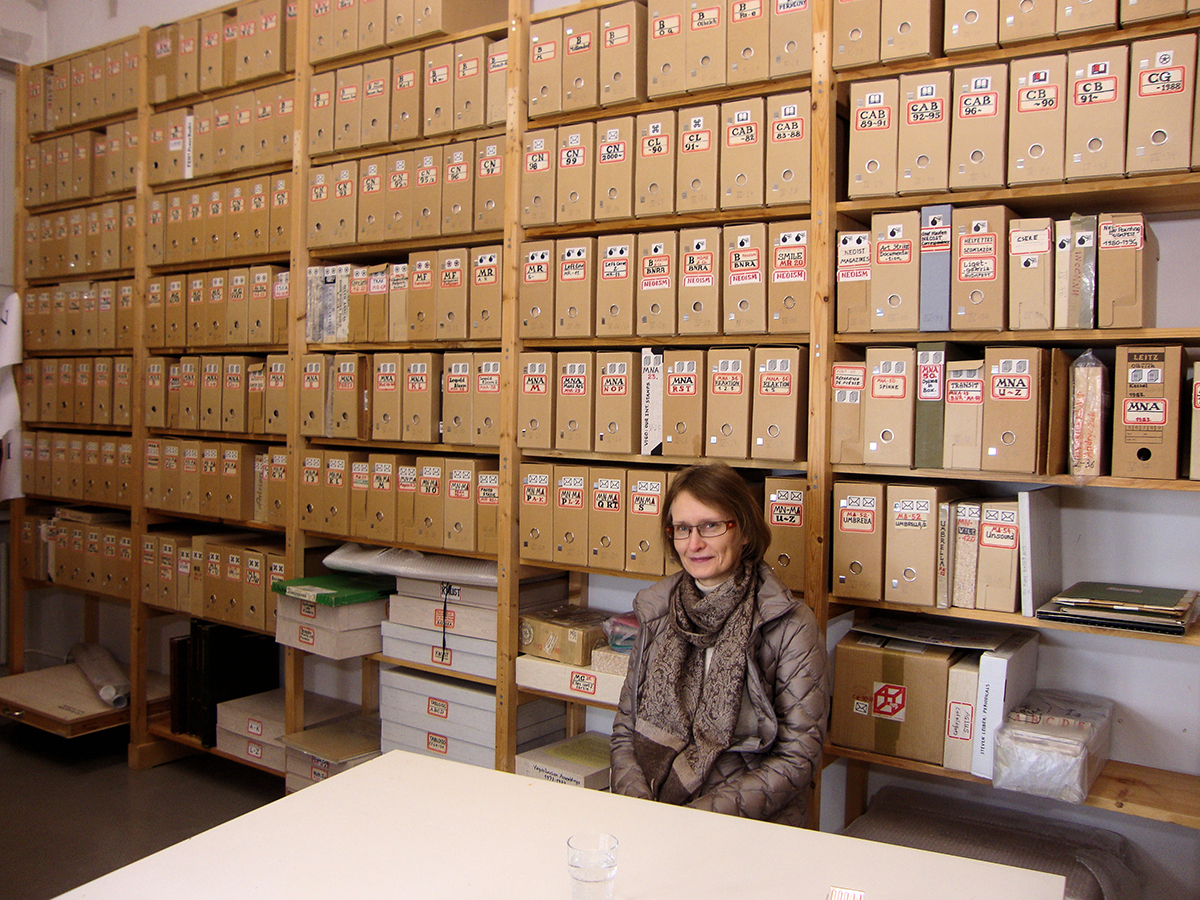 The Soft Geometry Archive was built up by Géza Perneczky in Cologne, Germany. The archive consists primarily of publications by artists since the 1970s and works from the art movements of late Fluxus, Mail Art, and visual and experimental poetry. The collection includes works by artists from all over the world, for instance Latin America and Japan. Works by East-European artists constitute about 25 percent of the content.
Name of collection
The Soft Geometry Archives, Center for Artists' Publications / Weserburg
Provenance and cultural activities
The Soft Geometry Archive was built up by Géza Perneczky in Cologne, Germany through participation in the global correspondence network of artists.

According to Perneczky, the movement derived its energy from two sources. On the one hand, it drew on the countercultural 'mission' opposing authoritarian regimes (such as the regimes in the countries of the former Eastern Blok and Latin American dictatorships). Participation in the network ensured independence from the spaces of public life, which was subjected to censorship.

On the other hand, it also drew on the aspirations of socially isolated artists, and after the classical avant-garde became canonized and thus academic, marginal artistic trends sprung up from various subcultures and from alternative endeavours that broke with the officially sanctioned art.

These artists were involved in private publishing, correspondence and communication, forming a parallel space for exposure, instead of addressing the art establishment directly. Only some radical groups within the network – for example Neoists – went into opposition with Grand Art, creating space for and forms of a kind of counterculture. The main tools used by these radicals were multiplication, plagiarism, and art strike.

Characteristic features of the network's methodology include the negation of artistic quality and the absence of commercial interests. Members of the "Eternal Network" were involved in ritualized communication, making extensive use of old and new technologies (such as the photocopy, rubber stamps, and print) to produce multiples.

Also characteristic is the frequent use of radical means of expression and the cult of the absurd, the selectively adopted motifs of pop, rock, and punk culture, ironic or playful re-appropriation, and the extensive use of fake identities and (shared) pseudonymous names. In many respects, they can be described as the forerunners of the many of the internet phenomena that have garnered audiences today.
Description of content
The collected items are often handmade, produced in limited editions. The archive includes

drawings

,

prints

,

collages

,

photos

, revised

envelopes

that are stored alphabetically in ring binders, over 500 sheets of

artist stamps

, and a comprehensive collection of project referrals (especially for mail art projects). Furthermore, it includes all published texts and manifestos on these movements.

Perneczky's correspondence with institutions, artists, and authors from 1971 to about 2000 is also included in the archive, as is the collection of works by German artist Graf Haufen, including his correspondence, mainly with Neoist artists.

Everything is sorted alphabetically or chronologically in the archive. The different areas of books and magazines have been catalogued with the use of about 5,000 cards. The Soft Geometry Archive consists of around 10,000 items.

The archive is divided into the following areas:

BW = Book Works (artists' books)

B = Books (individual publications)

CN = Catalogue Network (mail art projects, etc.)

CG = Catalogue Graphics (projects, exhibitions)

MN = Magazine Network (Mail Art Magazines)

MNA = Magazine Network in Assembling format

ML = Magazine Literature (Visual and experimental literature)

MR = Magazine Radical (Neoism, etc.)

CR = Catalogue Radical (Neoism, etc.)
Content
Unknown type: 500-999
graphics: 1000-
graphics: 1000-
graphics: 1000-
photos: 100-499
Operator(s)
Geographical scope of recent operation
Founder(s)
Creator(s) of content
Collector(s)
Important events in the history of the collection
Featured items
Access type
completely open to the public
Publications
Perneczky, Géza (2004) NETWORK ATLAS, Works and Publications by the People of the First Network, A Historical Atlas for the Post-Fluxus Movements as Mail Art, Visual Poetry, Copy Art, Stamp Art & Other Relative Trends with Addresses, Projects, Publications & Exhibition Events (Unedited manuscript) Volume 1: A - N, Volume 2: O - Z, Soft Geometry, Cologne
Part of network
References
Perneczky, Géza, interview by Beöthy, Balázs, August 25, 2016. COURAGE Registry Oral History Collection
Last edited on: 2017-12-31 09:03:02