Exhibition: Tomislav Gotovac: Speaking of pictures at the Museum of Contemporary Art, Zagreb, 2003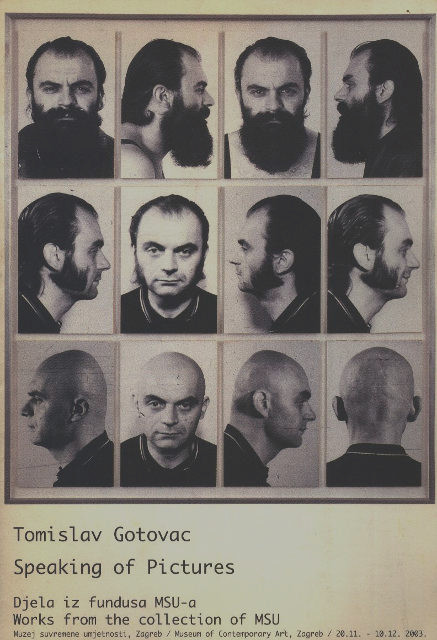 The retrospective exhibition by Tomislav Gotovac, which the artist himself entitled "Speaking of Pictures," was held at the Museum of Contemporary Art on Katarina Square 2 from November 20 to December 10, 2003. The exhibition presented all of his works (21 altogether) from the Museum's inventory: collages, photographs, films, a book of the artist, objects and graphics, as well as four works (photographs of performances) from the ad hoc Homage to Josip Broz Tito Collection.
The editors of the catalogue (English and Croatian language) and the authors of the exhibition were art historians Marija Gattin and Jadranka Vinterhalter.
Main actors
Documents about the event
Catalogue:


Gattin, Marija, Vinterhalter, Jadranka (ed.). 2003. Tomislav Gotovac: Speaking of pictures: djela iz fundusa MSU-a, Zagreb: Muzej suvremene umjetnosti
Last edited on: 2018-02-24 16:17:24