Newspaper 'People's Agrarian Banner' (Narodno Zemedelsko zname)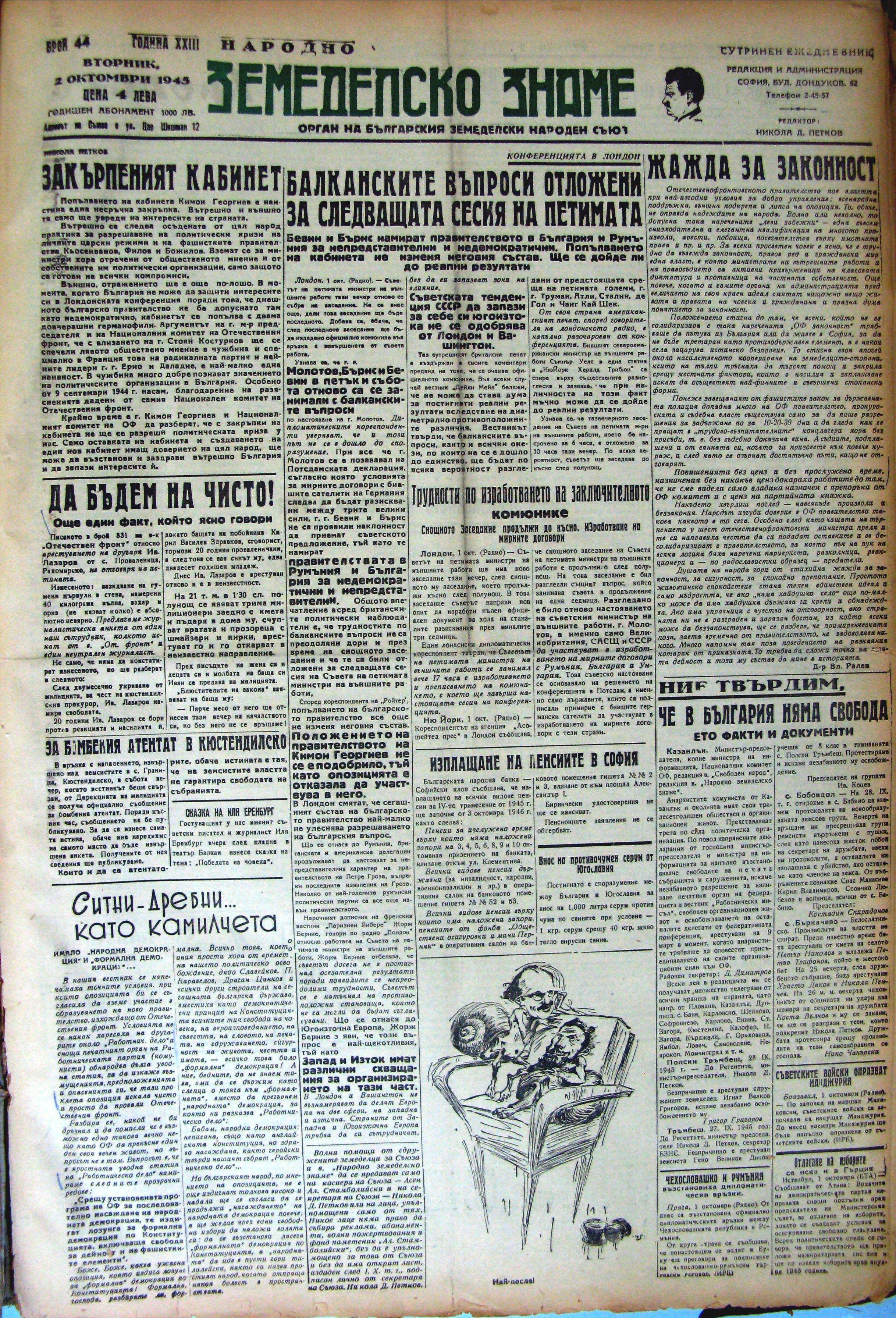 The newspaper "Zemedelsko zname" (The Agrarian Banner) was the organ of the largest opposition party after the 9 September coup d'état - the "Bulgarian Agrarian People's Union - Nikola Petkov", the successor of the prewar peasant party which had roots in the early 20th century and ruled Bulgaria from 1919 to a coup in 1923. The newspaper, following the party line, criticized violations of democratic norms of the emerging communist regime and opposed the intrusion of the state onto private property. Apart from journalism, one of its most potent means of critique was political satire, which reached its peak in a slender series of commentaries on public processes at the time, an example of what are published in the selected masterpiece (issue 44 from October 2, 1945). These are materials such as "Thirst for Justice", "Let's be Clean", and others.
Many of the articles in the newspaper were written in response to letters of peasants about crimes of the new regime such as the article on the front page of the selected issue "We claim there is no freedom in Bulgaria, here are facts and documents."
On the front page there is also a feuilleton piece of the writer Trifon Kunev, one of the editors of the newspaper, "Slim, little ... like camels." From September 1945 to June 1946, Trifon Kunev published in the newspaper editorials which openly and sarcastically exposed the new government and the communist party. This was the expression of "protests against the insults against men and against the violation of the most sacred domain, freedom." In March 1946 he released a selection of his articles as a separate book publication with the same title. After that, he was prosecuted, his book was confiscated by the State Security authorities, and the writer was beaten up in the editorial department of his nespaper. He was imprisened for 140 days in the Central Sofia Prison, until his election to the Sixth Grand People's Assembly.
Only between September and December 1945, the newspaper was repeatedly stopped, confiscated, and provided with so little paper that it was forced to reduce the amount of page of its issues. In 1946, the "Zemedelsko zname" newspaper was temporarily suspended due to the publication of articles critical of the Soviet Union. The newspaper was eventually forbidden on the basis of the Supplementary Law on the Press Act from April 19, 1946.
In 1989 the party Bulgarian Agrarian National Union "Nikola Petkov" and its organ "National Agrarian Flag" were restored.
Credits
"People's Agrarian Banner" newspaper, no. 44, October 2, 1945
Featured item of
Last edited on: 2017-09-11 09:10:01