2018.06.27. 11:53
Brussels, Berlaymont Building
5 May 2018
The institutions of the European Union in Brussels open their doors every day to the general public: this is called Europe Day. COURAGE was selected from among the many Horizon 2020 projects funded by the European Commission to exhibit at the event on 5 May 2018. The creative team of COURAGE prepared online and manual games for the event (e.g. H5P applications, puzzles, memory game, magnetic board games, etc.). These were prepared with various age groups in mind, from little children to adults. The COURAGE corner was flooded by visitors and it took its share from the 15.000 visitors that visited the open houses and exhibition spaces.
Tangible games and applications provided insights into the great variety of the cultural heritage of cultural opposition in Eastern Europe. For instance, the game "COURAGE City" is based on a board map of an imagined city with venues such as private flat, street, square, fashion store, university, shipyard, etc. There are also cards with pictures  and short descriptions of various actions related to dissident activities. The task is to match these cards with the proper place of the map, and to create a city of counter-culture. This game demonstrates that all kind of spaces in a city could be turned into venues of dissent. It also provides examples on how citizens reclaimed the city space by fresh, alternative, independent initiatives including movements and performances.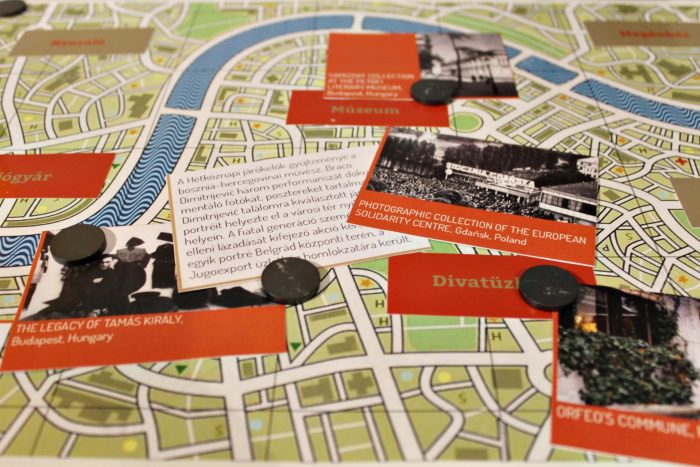 In the game "Countries & Collections" one has to use a short information sheet and his or her imagination to place little images on a blank map of Europe. The small pictures are featured items in the collections, and the task is to place the given image on the country where the collection is located. This is a way to call attention to the geographical scope and variety of dissident activities throughout Eastern Europe.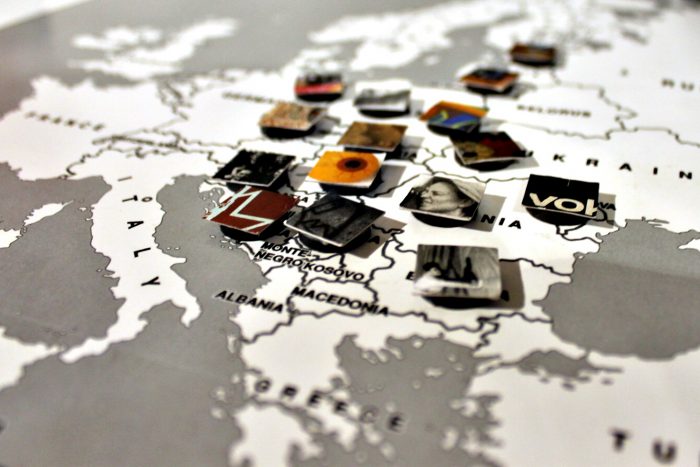 There has been somewhat more simple games such as puzzles, memory games, puzzle cubes with images of representative items from collection of cultural opposition. Naturally, visitors (or their parents) became interested in the objects and images printed on these games, asked about their meaning and background, therefore it provided an excellent opportunity to give a short introduction to the related themes. Visitors often turned to the touchscreens after playing with the tangible games, and played with the online games or entered into the Registry.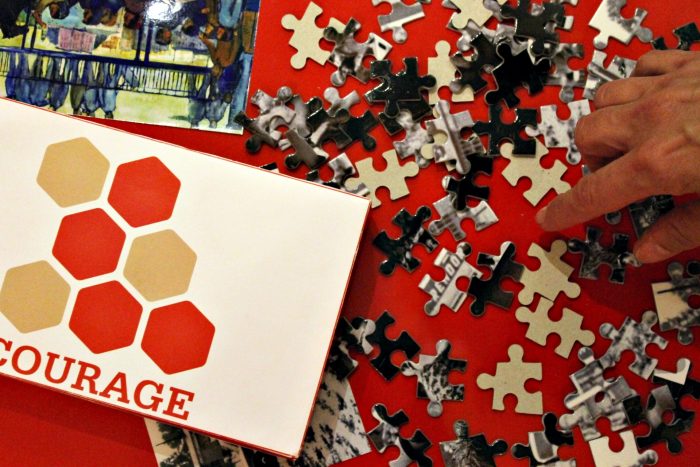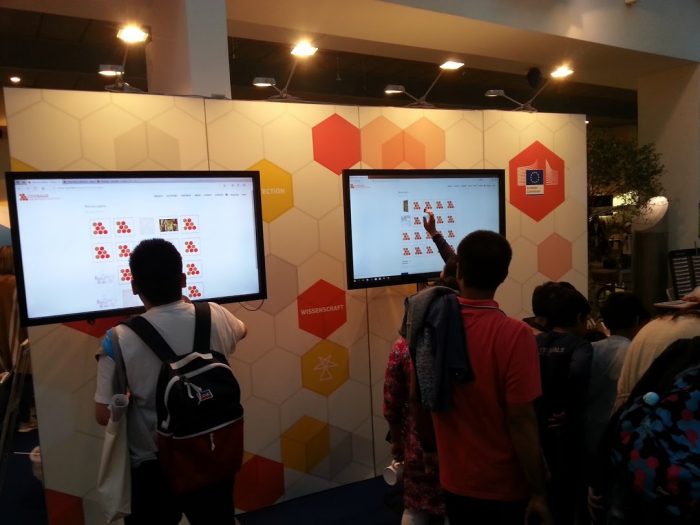 The COURAGE creatives and the IT team also developed applications the visitors could play with: interactive videos, image hotspots, personality quizzes ("What kind of cultural dissenter would you be?"), dialog cards in different topics ("Objects of cultural opposition", "Criticism of the system", "Attention! House search!"). These were useful tools for playfully demonstrating the different aspects of cultural opposition and the main features of counterculture. Finally, for little children, we created word-search, labyrinth-game, drawing and coloring sheets (designed with COURAGE-hexagons).
Besides these, a musical mix of rock, punk, alternative and experimental music (all created during Communism across the region) could be listened to and short clips of related documentary films were shown. All in all, it was a great occasion to get into interaction with visitors and present our research project to an enthusiastic audience.